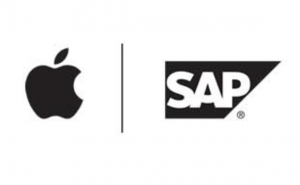 Apple Inc. and German software in recently announced that they will join hands to develop and release an application which aims at helping the developers build iPhone apps for big businesses, and the release day is March 30.
Last year, these two big firms had been started this collaboration, and focused on designing a tool which allow developers of SAP SE easily fee data between SAP's business-oriented software systems and Apple's consumer-oriented iOS mobile platform, while the most of SAP's systems in currently only can be used on personal computers.
SAP SE company introduction
SAP SE (Systeme, Anwendungen und Produkte in der Datenverarbeitung; "Systems, Applications & Products in Data Processing") is a German multinational software corporation, it is specialized in developing enterprise software to manage business operations and customer relations, and now 87% of the world's 2,000 biggest companies has been become its customers. And it is now a component of the Euro Stoxx 50 stock market index.
One Comment so far:
Posted by: Admin on March 1, 2017 Category: Mac News

Tags: Apple, Applications, News

previous - next