Recently, it is reported that the lately update to macOS 10.13.4 High Sierra is breaking third-party dual-display systems, and third-party hardware vendors scrambled to warn customers and caused Mac users to call each other names.
The products affected include the hardware-based DisplayLink, along with the app-based Air Display, Duet, and iDisplay. However, the problem doesn't affect secondary displays that connect directly to the Mac via Mini DisplayPort or Thunderbolt.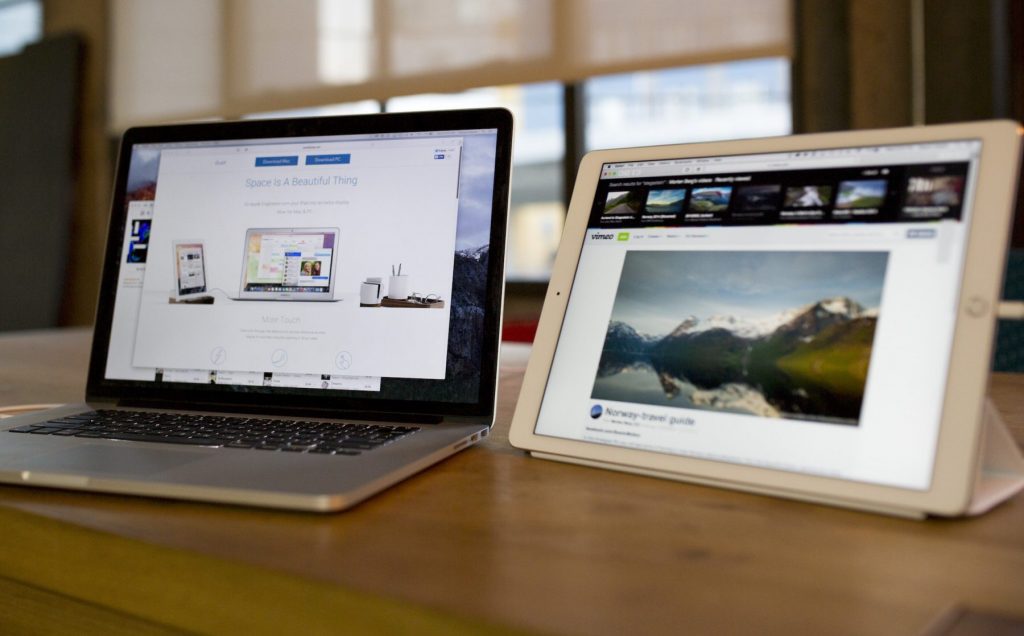 Duet Display
"Installing macOS release Version 10.13.4 will cause Duet Display stop functioning after the OS upgrade," the app's developer said in a support article. "We have alerted Apple to this issue and are working hard to find a resolution. These features continue to work as expected in 10.13.3."
Duet Display and Avotron's Air Display lets Mac owners turn an iPad into a secondary display. Items viewed on the iPad support touch interactions, and users can even simulate the MacBook Pro's Touch Bar for extra control.
"We are actively looking into workarounds so that Duet is not affected by the macOS bug, and will keep you informed," the Duet Display support article continues.
Avatron, the makers of Air Display report similar problems.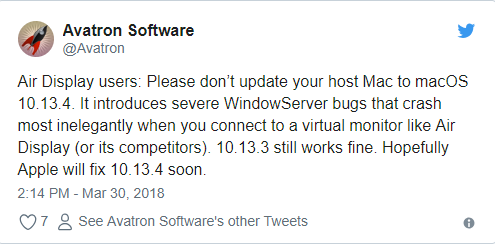 If you have no idea what is going on, read this explanation bellow:
There are a lot of screen extension program in Mac, wired / wireless connection can use iOS or other devices, such as iPad equipment into second screen Mac computer, browse more content on the iPad, and supports touch interaction, even can simulate the MacBook Pro touch strip in additional control. The best known is Duet Display, its expansion screen experience is very good, similar applications and Air Display, in addition there are many users choose USB
The recently update of macOS 10.13.4 should be a good thing, but it turns out a smack, Duet Display was found just couldn't run normally as it does in the past. To address this problem, Duet Display announced that the developers have questions to Apple to "find a solution" to make sure 10.13.3 can maintain normal operation.
Air Display Avatron, the Air Display developers also inform the users not to update their systems to macOS 10.13.4, because it may lead to serious error of WindowServer.
"We have alerted Apple to this issue and are working hard to find a resolution. These features continue to work as expected in 10.13.3," DisplayLink said, echoing Duet's statements.
In an email to Air Display users, Avatron wrote:
We're sorry to say that the Air Display Host software does not yet work on macOS 10.13.4. This new version of macOS has made some bold changes to its WindowServer and Metal frameworks, and unfortunately has broken the Air Display Host, as well as all of our competitors. The breakage is severe; it causes an inelegant system crash when you try to connect to any unaccelerated display or USB monitor. We have reported the bug to Apple and are hoping for a fix in macOS 10.13.5.

Until Apple issues a fix, we do not advise updating to macOS 10.13.4. Of course Air Display continues to work fine on 10.13.3.
DisplayLink
Issues are also serious with DisplayLink peripherals like some docks and USB monitors, as installing macOS 10.13.4 may cause them to go black. Secondary features such as sound and Ethernet connections should continue to work, as they are based on USB features baked into the protocol.

"We have alerted Apple to this issue and are working hard to find a resolution. These features continue to work as expected in 10.13.3," DisplayLink said, echoing Duet's statements.

Posted by: Admin on April 24, 2018 Category: macOS High Sierra

Tags: Application Crash, Duet Display, MacOS 10.13.4

previous - next